If you are interested in joining our team you must have excellent communication skills, a strong work ethic, the ability to efficiently multi-task, and a positive mental attitude.
At ACS we offer unlimited bonus potential, flexible schedules, competitive wages, paid time-off, 401k, employee health benefits, and excellent career opportunities.
2016, 2017, 2018 & 2019 Best Places to Work in Collections Award Winner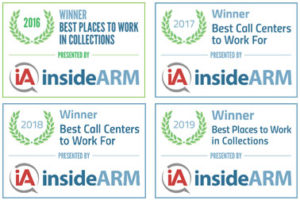 Associated Credit Services, Inc. is proud to show our commitment to be an outstanding workplace through participation in the insideARM "Best Places to Work" program. Having received recognition each year we've participated, we pride ourselves on being an honest, fair and trustworthy employer. Our goal is to be a place folks can feel good waking up and coming to work each day.
Now in its 12th year, the program was established by insideARM, the leading independent news and information provider for the collections industry, and is administered by Best Companies Group, which conducts over 40 local, national and industry "Best Places" programs each year. This survey and award program were designed to identify, recognize and honor the best places of employment in the collections industry.
Companies from across the U.S. entered the rigorous two-part survey process to determine the Best Places to Work in Collections. The first part consisted of evaluating each nominated company's workplace policies, practices, philosophy, systems and demographics. The second part consisted of an employee survey to measure the employee experience. The combined scores determined the top companies and the final ranking. Best Companies Group managed the overall registration, survey and analysis process and determined the final rankings.
Stephanie Eidelman, CEO of insideARM, said "This has been a terrific program for the industry over the past nine years. It's so important to celebrate what's positive and acknowledge that – just like any other industry – collections is comprised of human beings who value connection, opportunity for advancement, healthy company culture, and a good relationship with their supervisor. Getting this right can help make the difference between high and low turnover, which is so critical to the success of any call center."